................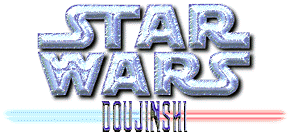 ---
Would you like to link to the Star Wars Doujinishi site? Feel free to use one of these banners - just remember to upload them to your own server!

Like everything else, anyone is free to make and donate banners of their own for this site. Send all art submissions to lenoirrose@softhome.net
---

---
SW Doji Home
---
The characters, names, ideas, logo and everything else are the property of George Lucas and Lucasfilms. No infringement is intended - the contents of this site are done by the fans, for the enjoyment of the fans, with no profit. All original artwork and situations are &copy to the creating artist and should not be used without permission.